SkyHawk Gaming Chair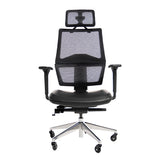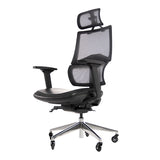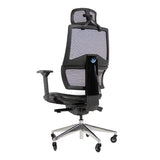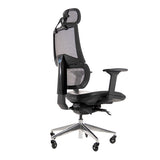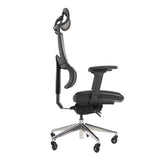 Tilt Lock With Weight Activated Release
Enjoy style with simplicity from our Italian designed mechanism. It means you can be comfortable whether you're sitting upright, engrossed in a game, or relaxed and reclined during a pause in play. Experience the innovation and the quality of the synchronized tilting mechanism.
Responsive Lumbar Support
Because the responsive lumbar support moves with you, it needs no manual adjusting. Intuitively adjusting itself to your body every time you move, it responds to your position and the amount of pressure you place on it. The responsive lumbar support reacts to keep you comfortable and supported as you change positions during your game.
Adjustable Back Height
Lower back pain can be caused when your spine isn't properly supported and your posture sags. Like Goldilocks, you need a backrest that's just right - not too high or too low. With our adjustable backrest, you get the right support, where you need it.
Forward Seat Tilt
You tend to have more movement when you're sitting to game. So we've designed the SkyHawk seat to tilt forward, giving you a performance advantage, better supporting your spine as you lean into the game.
Seat Depth Adjustment
Creating comfortable seating for all sizes of players, the seat slider allows you to adjust the seat for petite and taller gamers. So you can match wits against opponents using the same gaming setup.
Adjustable Head And Neck Support
Sitting for long periods of time gets uncomfortable if you don't have good support for your head and neck, whether you're gaming or not. Our movable headrest allows you to adjust it to each individual position.
Adjustable tension recline
The chair's tilt allows it to move with the body naturally so you can shift from an upright position to a full recline smoothly and simply. Lock it off so you can pause in peaceful comfort.
4D Adjustable Arms
No one keeps their arms in the same position for long periods of time, especially while gaming. That's why you have the 4-dimensional armrests movement. Pull them up when you want support, lower them or move them to the side if they're in the way.